Spring Black Bear Hunts in British Columbia, Canada
If you are looking for a big black bear, British Columbia is the premier hunting location in Canada. With an estimated population of 160,000 bruins, our black bear hunt is exciting, with an extremely high success rate. In the spring black bears emerge from their dens with their coats at their very best and they are ravenous after the long winter. They feed on green grass along the roadsides and on south facing hillsides. The bears in our territory come in all kinds of color phases – ranging from jet black to cinnamon and chocolate brown. A mature black bear will average around the 6-foot mark with some extraordinary boars exceeding 7-foot nose to tail. Bear hunters in British Columbia have the option of archery, rifle or muzzleloader hunts. With the high density of bears in our territory, the chances for several stalks a day are high. Hunters have the option for a second bear, for an added trophy fee. All bear hunts are spot and stalk hunts with 4X4, on foot or by boat. It is not a physically challenging hunt, so we can cater to all ages and physical abilities.
Black Bear Hunt
Spot & Stalk Spring Black Bear Hunts British Columbia
Looking for a thrilling bear hunt with a little bit of a challenge? Not just sitting and waiting for a trophy bear to show up at your bait pile. Spring in British Columbia is the ideal time for spot & stalk black bear hunts. At this time of the year, bear hides are in prime condition and color phases are beginning. Cinnamon, brown, blonde & jet black bears can be found in this area. This remote area of British Columbia holds 1,000 square miles of amazing wilderness, offering our guides plenty of bear hunting territory to work with. Spot and Stalk Black Bear hunts are an adrelaline filled adventure every hunter should experience!
Rifle Bear Hunts
Rifle Black Bear HuntsBC Canada
Our rifle black bears are abundant, big and fun to hunt. The bears are feeding heavy on the first green shoots that grow along the roads and south facing hillsides. So this is where we go to find them. It is a pure spot and stalk hunt with 4x4 and/or on foot with some glassing open hill sides. The nice thing about a rifle bear hunt is that with our abundance of bears you can afford to be selective. Once a bear is spotted, we just watch him for a while determining if it is the bear you are looking for. If the bear is not quite what you are looking for, we just keep on looking. The right one will appear eventually.
To make an ethical and clean shot we generally try and get within 150 yards of our quarry. With the wind in our favour and the bear busy filing his belly full of dandelions it is usually not extremely difficult to stalk within 100 yards of the bear. Recommended caliber for a bear hunt is anything in the 30 caliber range.
BC Archery Bear Hunts
Archery Black Bear HuntsBritish Columbia
Bear hunting makes for a great archery hunt! Bears fresh out of hibernation have one thing in mind: EATING. They are nearly oblivious to their surroundings once they found a good feeding spot – so closing the distance into archery range is not extremely difficult if you plan your stalk carefully. As soon as we locate a nice feeding bear the boots come off and the stalk is on. Don't underestimate the bears' noses though – their sense of smell is 2000 times better than ours. So working the wind on a stalk is key to success. With the right wind getting to within 40 sometimes even 20 yards offers the bowhunter greatly improved situations for proper shot placement as well as the ability to judge the size of your bear accurately before taking the shot. And believe me: Getting close enough on a bear so can hear him eating will get your adrenalin pumping!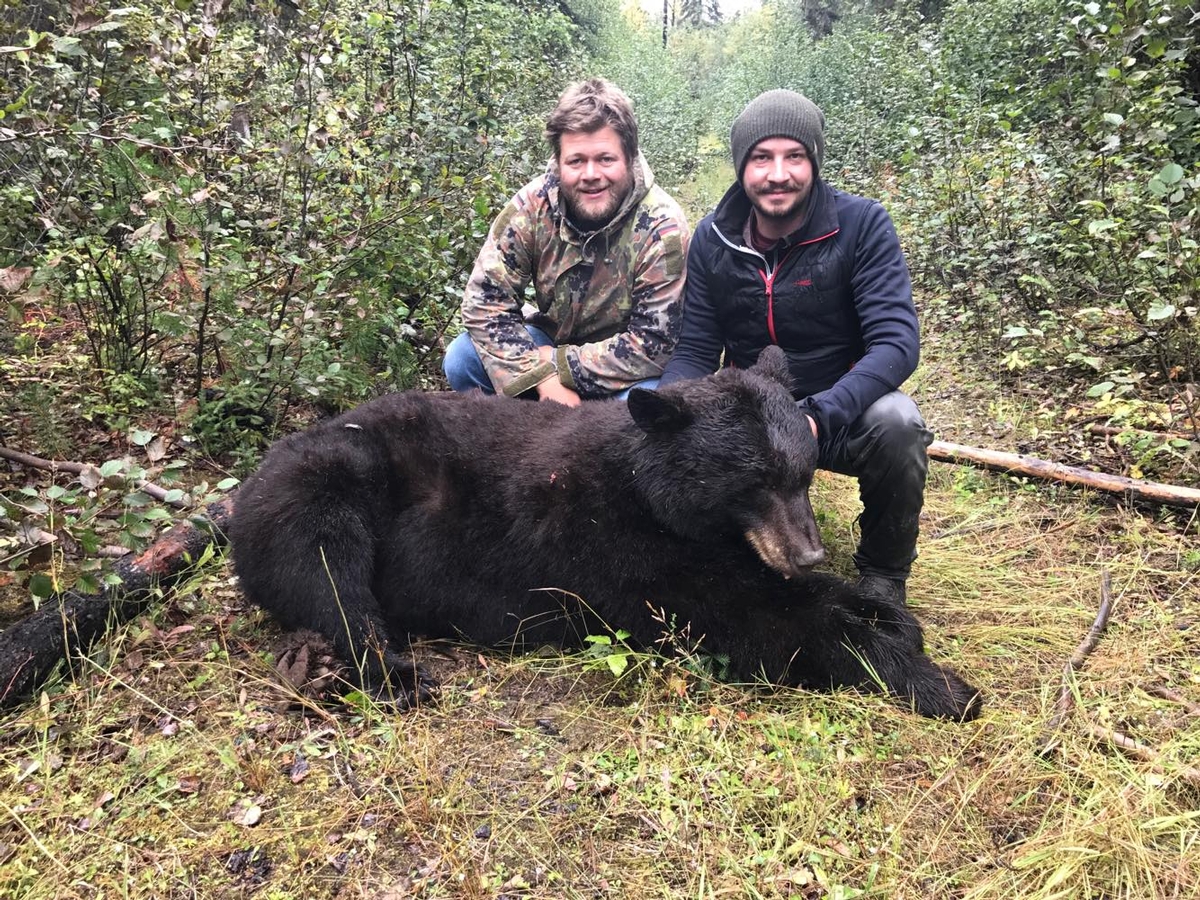 Trophy Bear Hunts
BC Black Bear Hunting Rates & Dates 2020
| | | | |
| --- | --- | --- | --- |
| Dates | Hunting Days | Hunter:Guide | Cost |
| 1st May – mid June | 5 | 2:1 | $3,200 |
| 1st May – mid June | 5 | 1:1 | $4,900 |
2nd Bear Trophy Fee: $1,000
All prices are in USD and subject to a yearly increase. Fishing and harvest of wolves is included (if time allows) in every hunting package at no extra cost. Non-hunting companions are welcome at a daily rate of $200.
Trophy BC Black Bear
2022 British Columbia Bear Hunting Packages
Included in the BC Bear Hunting Packages:
Guide service for 1 black bear
All ground transportation
All accommodation and meals during the hunt
Trophy & meat care.

Not included:
License: $180
Bear tag: $180
CITES $30 (if applicable)
Hunter Preservation Fund $250
Fishing License $89
Harvest fee for additional animals
Prices are subject to 5% GST
Tags and License fees are government issued and subject to change
Grizzly Bear Hunting:
As of Nov. 1st 2017 the Grizzly Bear hunt has been closed by the government of British Columbia due to political reasons. Please check back at a later date!
Bear Hunts In Canada Gallery